With so many bits and pieces of stationery needed in our classrooms and speech rooms, we are always on the look-out for new ways to keep desks tidy whilst keeping stylish decor in mind.  We have searched high and low for innovative, practical and stylish desk tidies and are bringing you the top 3 that we have found….
So let's have a look at our top three:
Number 3:  Pencil Box from GIFTPOINT Studio on Etsy
We just love this pencil box made from pencils!  It looks great, so cheerful – it would add energy to any desk.  It will co-ordinate with many decor schemes with all those colors in there! It will hold all your pens, pencils, felt tips etc. and if you are a SLP or teacher who prefers to keep the desk uncluttered and believe that 'less is more', then this would be a great solution for you.  It is a little on the expensive side though, coming in at $62.13, but it is a handmade item, so you would expect it be a little bit more expensive.
Number 2: Box in a Box Desktop Organizer by Kids Haven
This desk tidy is a great item to add to your classroom decor!  For all us craft enthusiasts out there, this clever little organizer comes flat packed and you make it up yourself – could you boast 'handcrafted'?!!  It sells for a great price too – $5.50.  There are a few different designs available on the website – and with 6 or more compartments within the box, it really is a practical solution to tidy up any desk.  It comes with a lid so that any little bits and pieces on you desk can be stored safely away.  The only teeny-tiny concern I have regarding this item is durability (but at a cost of $5.50, what should I expect??) and that's why I've put it in second place.
Number 1: Lazy Susan storage from Houzz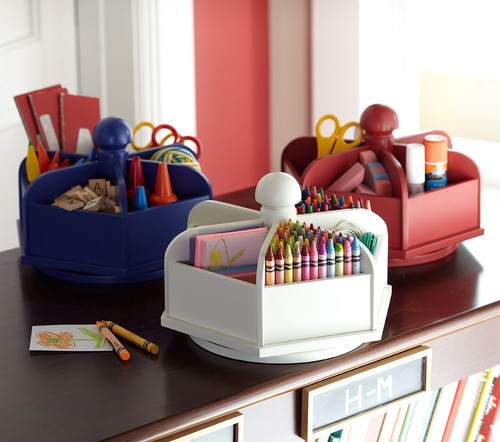 These are just adorable!  They get our number one recommendation because they have it all: style, practicality, color choice… and they will last forever!  These colorful Lazy Susan's seem to be a good size for holding all sorts of bits and bobs and being made from wood, they will be durable too.  Rotating on a carousel base, these desk tidies will are sure to be noticed by everyone who comes into your class – adults and children alike.  At a price of $34, they are a more expensive than the average desk tidy, but they will last for years and have lots of capacity for storing many desk items!