If , like me, you love spending time browsing Pinterest for decor ideas for your speech room, then todays guest post from Nicole over at Speech Peeps will help you to remember that making your space 'practical for learning' really is the most beautiful way to decorate!  Over to you Nicole!
Hello! It's Nicole Allison over at Allison's Speech Peeps. I am so thrilled to be writing for Speech Room Style! SLPs have some amazing decor-sense over at this blog and I love looking through all your rooms.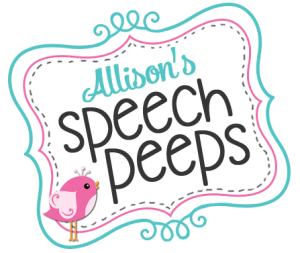 My speech and language room is my "home away from home." It's where I spend most of my living and breathing, second only to my "actual" home. For these reasons, I want it to portray feelings of calming, comfort and most of all, an environment for learning. If you're at all like me, I've been perusing pictures of Pinterst displaying near-perfect classrooms. Take this one for example, with an alphabet chandelier: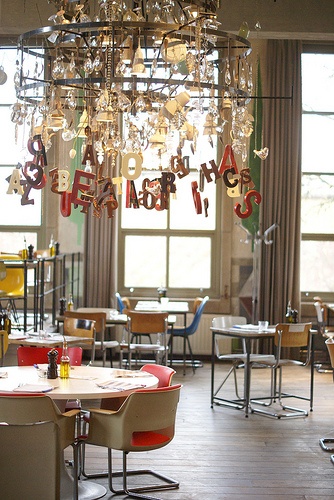 Does your room look this perfect? Mine sure doesn't! With the money I was willing to spend on my room, I decided I had to be smart about it. I needed to think outside the box and make the most of my space.
Here's my advice:
First and foremost-Think Practical. Think Functional. Make the space count for learning. Use every space you can for visuals, reminders and other support for your students.
If you have a bulletin board, help out your students by making it functional for them. I filled mine with articulation words, grouped by sound. These words can also be used for my language or fluency students to put in sentences.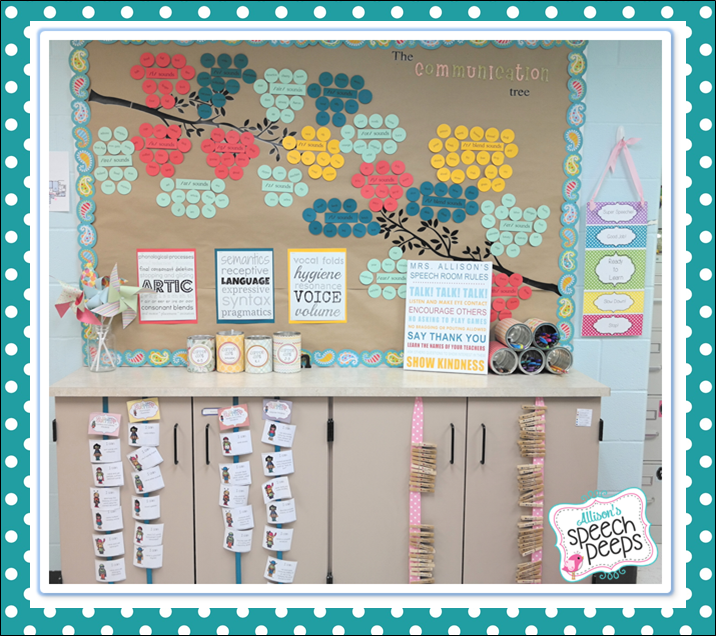 And here's a close-up: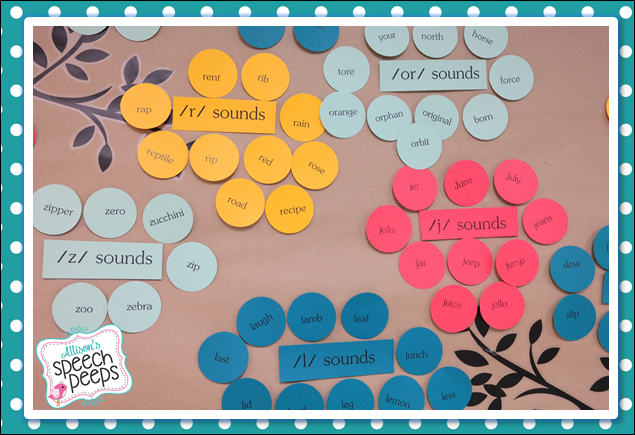 All this costs is some pretty paper and a tree decal or knowing someone who can draw! I printed out all the words on clear labels, attached them to the paper and used a circle punch to cut them out. Easy peasy.
Next, make the most of wall space. How? Two words: Command. Hooks.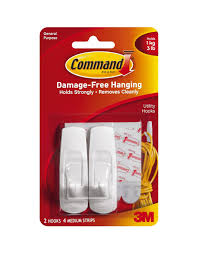 Love these things. They remove easily and hold a decent amount of weight. I use them to hang up my Behavior Chart,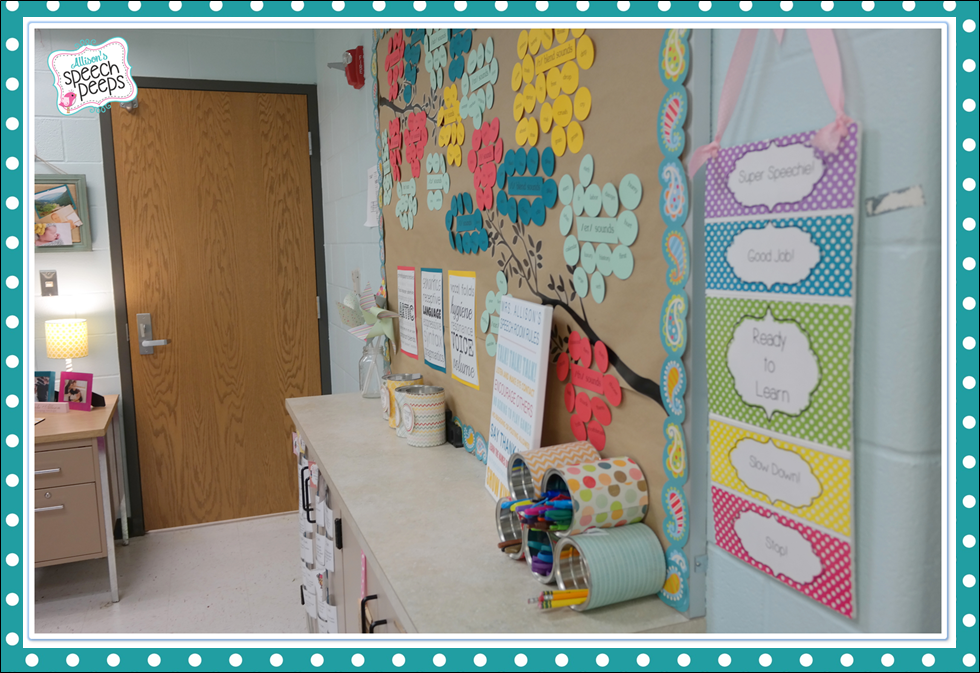 my frames above my desk,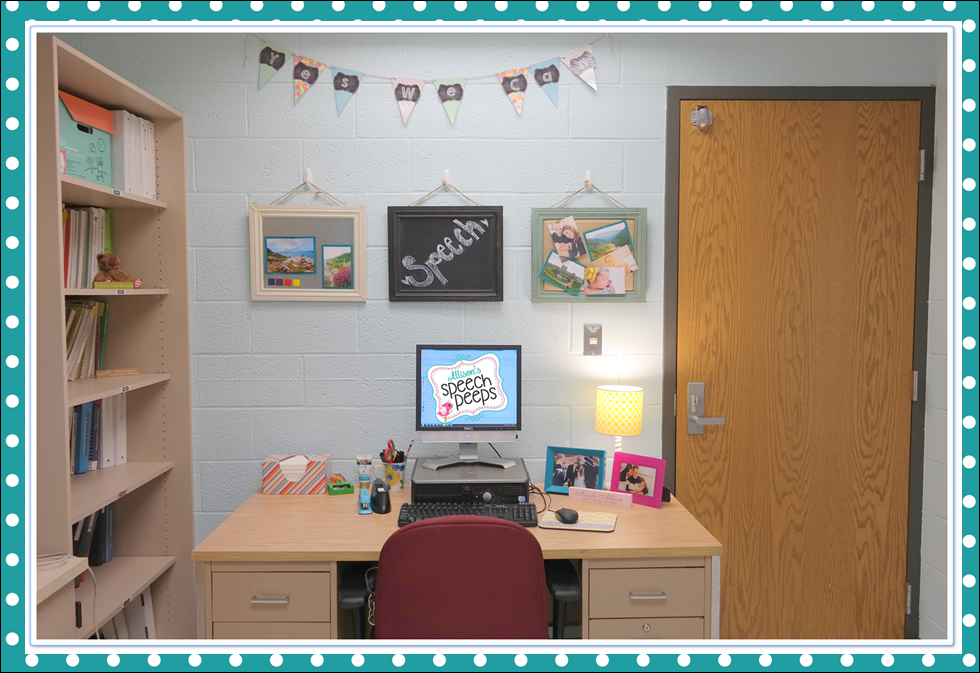 I even use these hooks to hang EETCHY from my Expanding Expressions Toolkit. (see him over there?)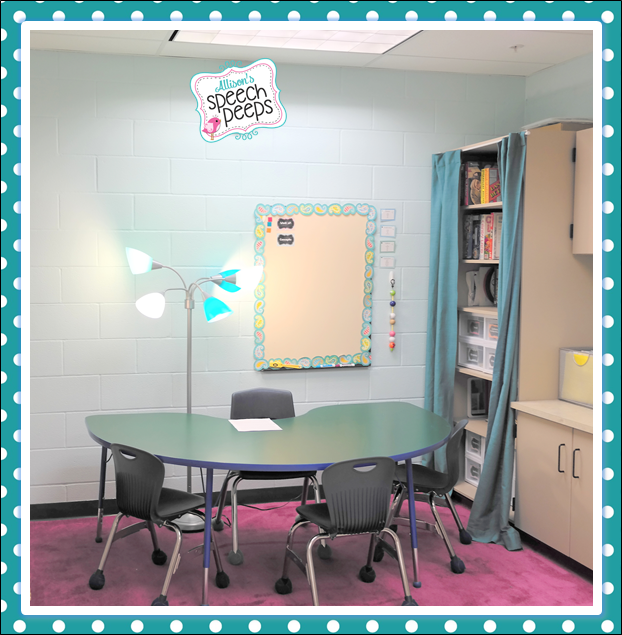 Last, I want to talk about distractions. Sometimes we can get so caught up in the decorating, it possibly take away from learning. I loved this curtain I bought at Target. I only needed one so I cut it half. I absolutely do not sew (I wish I did), but with this Sew with a Tube product (you can find at most craft stores), it was easy to hem it.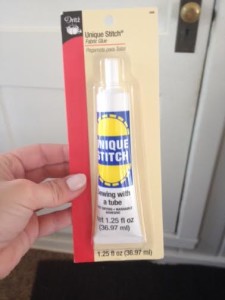 I then attached some more Command Hooks (love these things) on my bookshelf and placed a tension rod on them. Voila! My curtain hides all those games and distractions and my kids have more fun when the games do come out because it's a surprise!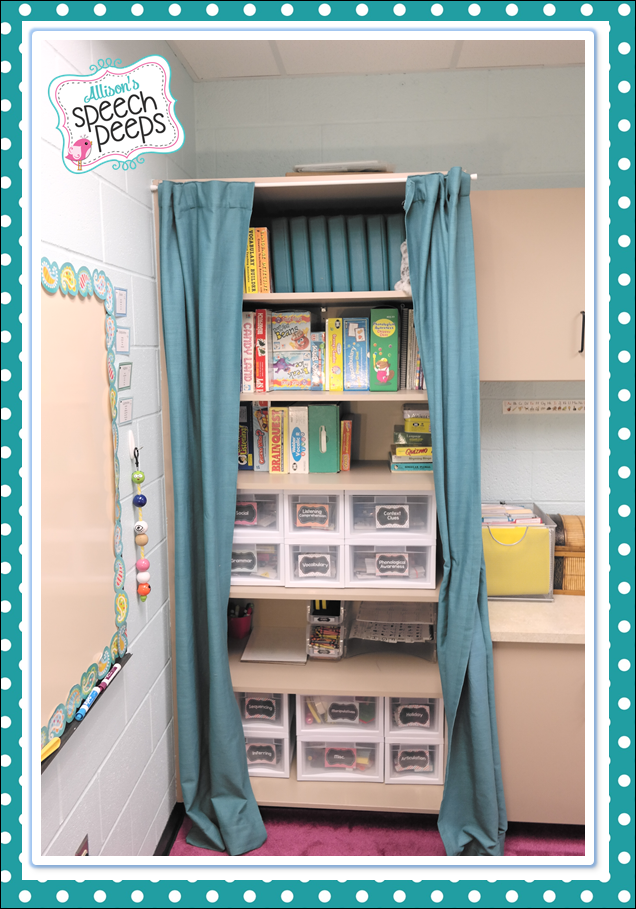 I hope you gained some useful tips you can take back to your classroom. Remember, you don't need an alphabet chandelier for students to learn. Bringing your own personality into your room will make it special! To check out more pictures of my room, I love for you to come visit me HERE.
Thanks again for hosting me Speech Room Style!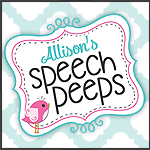 PS. You may also like these…
…a guest post by Megan Moyer of The Speech Summit.  She is going to share with us her top tips on getting her speech room organized for back to school – it really does make things that bit easier if you are organized!  Over to you Megan…read more here
…Whether you work in the public or private sector, budget is always a factor when it comes to decorating. Today we are starting a little 5-week series giving you our Top 5 Tips for decorating your speech room or class room on a budget to give you the inspiration to get started on your room redo – whatever your budget…read more here